Welcome to Mutatis Mutandis, the human body makeover.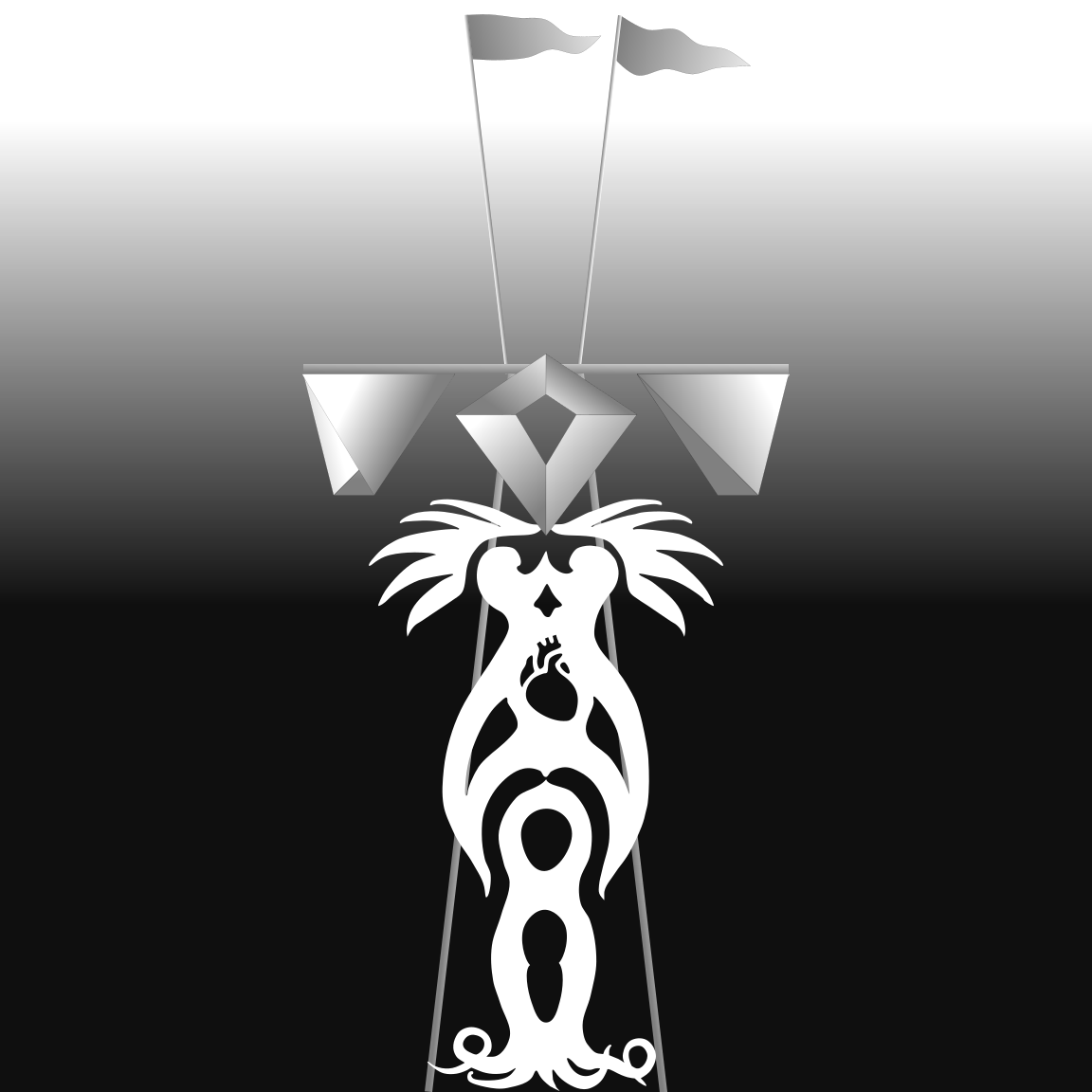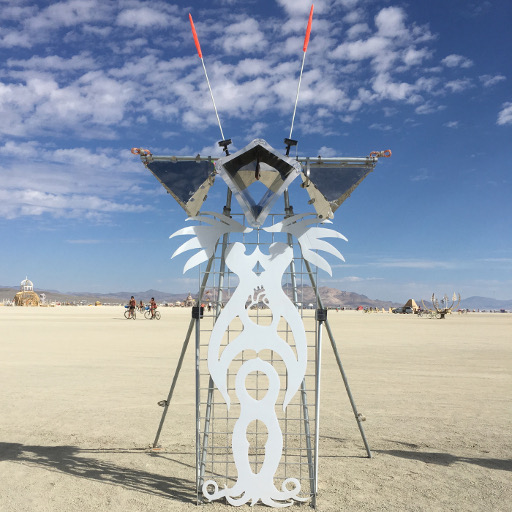 Future generations will redesign the human body to inhabit the skies, the oceans, the lithosphere, space.
Mutatis Mutandis (Latin: "having changed what needs to be changed") invites the visitor to try on some possible body types.
Atop each body, a system of interlocking mirrors multiplies the visitor's face into a 3D stellation, replete with many eyes, noses, and mouths -- omniscient, omnidirectional, and omnivorous. Side mirrors cover the 3D sphere with tessellated bouquets of tentacles and alien life forms.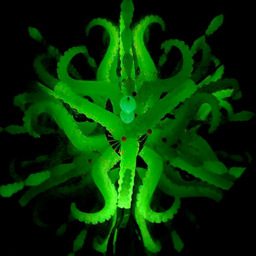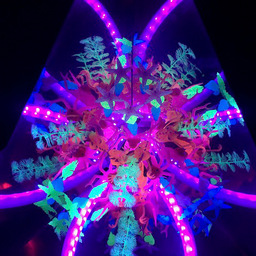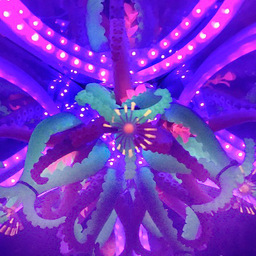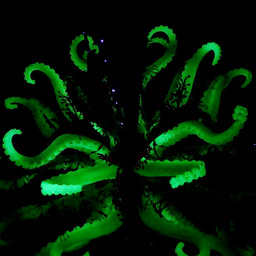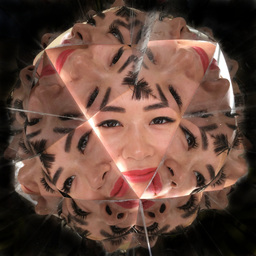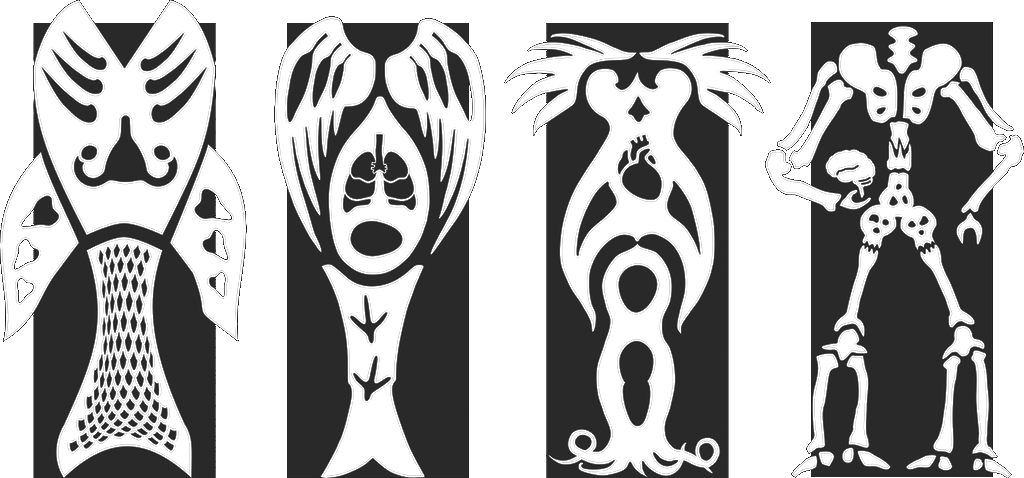 STATUS:
2019.08.25 Installed!
2019.08.12 Additional "bouquets" for side mirror cones.

2019.08.04 Shipped! Studio clean up day.
2019.08.03 Update: Missing part was delivered to neighbor! Got it on the way to the shipping container.
2019.08.03 Shipping today. Everything boxed and loaded on vehicle. No sign of overnight-shipped part.
2019.08.02 Rebuilt wiring harness. Spliced in more light. Packed everything except structure with missing part. Awaiting delivery.
2019.08.01 Laser cutting service found error on their side; will cut and overnight missing piece this morning. Packed all loose parts.
2019.07.31 Boxed 2/4 elements. One piece missing from laser cutter shipment! (Ack.)
2019.07.30 Corner bumpers, pylon feet, flags, solar power mounts. 2nd shipment from laser cutter arrives tonight.
2019.07.29 Wiring for 405nm lights. Test with fluorescent and glow-in-the-dark tentacles:

2019.07.28 Recondition battery, cart, halfbike.
2019.07.27 All structural elements assembled, partly disassembled, and folded for packing.
2019.07.26 Pipe cutting, drilling, deburring.
2019.07.25 1st batch laser cut steel has finally arrived! And all interlocks work! However, everything is ~0.08mm too large, so 3D fit is super tight. Structural mockup:

2019.07.24 Where's the steel? Delivery service says "undeliverable address." Yet they delivered here last week!
2019.07.23 Experimenting with lighting.
2019.07.22 Started packing & wiring plans.
2019.07.21 Solar cell mounts.
2019.07.20 Mirror attachment test.
2019.07.19 Body parts mounted on frames.
2019.07.17 2nd batch lasercut steel ordered. Test batch is late.
2019.07.15-16 All body part shapes dragknifed.
2019.07.12-14 CA/SciFoo detour.
2019.07.11 Going! Project is now definitely on.
2019.07.10 Dragknife tests and tuning.
2019.07.09 Small test batch lasercut steel ordered. Might as well.
2019.07.08 Steel interlock generating code revised.
2019.07.06-07 Machined: aluminum hinge clamps for quick-framing. Needed for multiple projects.
2019.07.04 Steel interlock patterns sent to laser cutting service for tolerancing.
2019.07.03 Retrofit flatbed CNC to dragknife. Wrote Bezier-to-dragknife gcode generator.
2019.07.02 Ordered: hose clamps, 405nm LEDs, aquarium plants, coroplast, finger monsters, glow-in-the-dark tentacles, chain, EMT conduit, PLA filament, wire, 10-32 SHC screws, retail grids. Good to have around even if the project is a no-go this year.
2019.07.02 Designs scanned, traced, converted to Bezier, tweaked.
2019.07.01 Design done (on paper).
2019.06.29-30 Ipswich detour. Initial sketches.
2019.06.28 Won't know go or no-go until 2nd week July. Must start project soon if freight shipping is going to be a possibility.
2019.06.22-25 UK detour.
2019.06.21 Maybe going after all.
2019.04.26 Sorry all. Can't go this year. Project revives in 2020.
2019.02-2019.04 Da Vinci Art/Sci class at CRLS (local public high school). Students prototyped Coxeter symmetry dioramas with Arduino-programmed addressable LED strips.
COMMENTS/SUGGESTIONS:
Design by Zintaglio Arts. See some of our past and future BM projects: Virascope Alpha, Gnomon and FOXP
© 2008-2019 Matt Brand. All rights reserved. Trademark & patents pending.